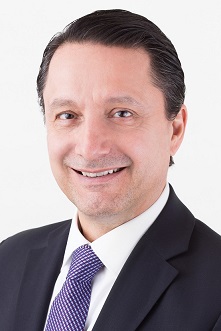 The Board of Directors of CBIA/Lawyers Financial is pleased to announce the appointment of Steve Dobronyi as President and Chief Executive Officer effective October 9, 2018.
Mr. Dobronyi is a veteran of the financial services industry with over 35 years of experience in insurance and wealth management businesses. He has a deep understanding of association-sponsored programs and is very familiar with Lawyers Financial's products and services - life & health insurance, home & auto insurance, business insurance and savings & investment products.
"We are very pleased to have Steve join the organization," said Sheilagh Murphy, Chair of the Board of Directors. "We are confident that his strong leadership and his enthusiasm for the Lawyers Financial social mandate will have a positive impact on our clients, partners and employees."
"I am thrilled to be joining CBIA/Lawyers Financial", added Mr. Dobronyi. "It's an organization with a long and proud history of serving the financial needs of lawyers and the legal community. This is an exciting time for the company and I look forward to working with the Board and staff to build on past successes."
Steve holds an Honours Bachelor of Science from Western University and an ICD.D designation from the Institute of Corporate Directors. He is a member of the Society of Actuaries, the Canadian Institute of Actuaries and the American Academy of Actuaries.