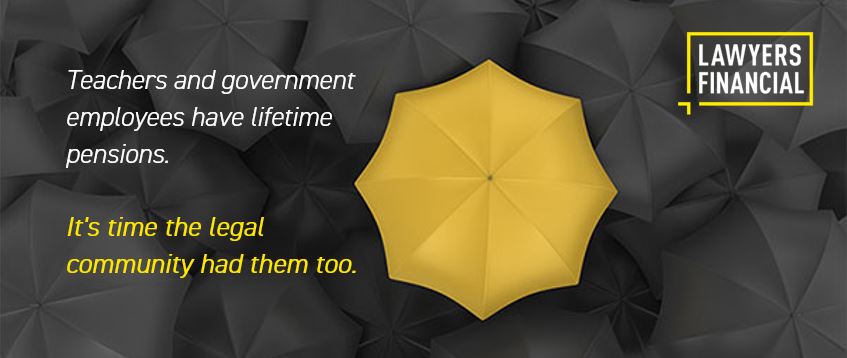 A CBIA/Lawyers Financial task force made up of leading pension experts recently completed two years of work on an innovative pension plan design for law firm staff, associates and partners; one that will deliver predictable and sustainable lifetime pensions at about half the cost of the average defined contribution (DC) or group RRSP plan. In other words, it will produce 30% to 50% more retirement income for participants.
The objective of a workplace retirement plan is financial security, which is best delivered in the form of a predictable lifetime pension. Defined Contribution Pensions (DC) and RRSPs are adequate savings vehicles, but they do not deliver predictable retirement pensions. Defined Benefit Pensions (DB) deliver predictable retirement pensions, but at significant funding risk to the employer.  
The Lawyers Financial Pension Plan is being designed to deliver the best of both worlds: eliminating funding risk for employers and creating reliable retirement pension income for lawyers and staff. It will also allow participants to realize benefits for previous years of employment with the ability to buy "past service."
CBIA is a not-for-profit organization that puts clients, not profits, first. The new plan will provide better value for employers and employees by delivering pensions at almost 50% less cost than traditional DC plans. Put another way, contributions must be 92% higher in a traditional DC plan to deliver the same $1 of retirement income as with this new design.  
Simply put, it is designed to be a low cost, indexed and worry-free vehicle for financial security.
The plan has received significant interest from Canadian law firms and representative associations and the goal is to launch in 2020.  
CBIA / Lawyers Financial is now consulting with lawyers from across the country about their interest in participating in the new plan.  
To be kept informed of updates, please provide your email address below.